Previously, after the former head of SushiSwap's Asia-Pacific region AG resigned, he publicly condemned SushiSwap's management for doing nothing. It is no longer a community-led project, but has become a "company" controlled by a few leaders. And named SushiSwap's CTO Joseph Delong "Tweet only, no code. He enjoys this and earns some extra money at the same time."

Joseph Delong responded on his personal social platform on the evening of December 5. He said that he should work at SushiSwap at the request of SushiSwap co-founder @0xMaki and help to professionalize and scale his organization. And achieving this goal will cause Sushi to need a model that is closer to the Uniswap Labs style. If there is no legal entity, this is impossible to achieve. Therefore, SushiSwap has established a legal entity that can sign contracts and open bank accounts to pay service providers such as Vercel, AWS, Tenderly, Sigma Prime, Certora, ConsenSys Diligence, OpenZeppelin, GitHub, etc. Joseph Delong pointed out that these are the tools required by the operations team to effectively perform development and operations tasks at Sushi. The formation of entities and expansion naturally produces a hierarchy, and the team cannot use governance to make every decision.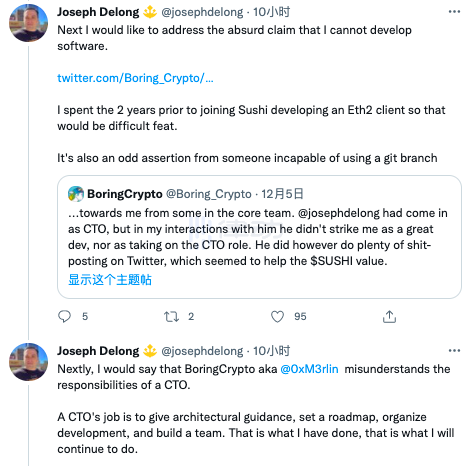 Later, in response to questions about his personal development technology, Joseph Delong responded, "Before joining Sushi, I spent 2 years developing the Eth2 client, so this will be a difficult task. Joseph Delong explained the work content of the CTO : "The job of the CTO is to provide architectural guidance, formulate a roadmap, organize development, and form a team. This is what I am doing now, and I will continue to do it.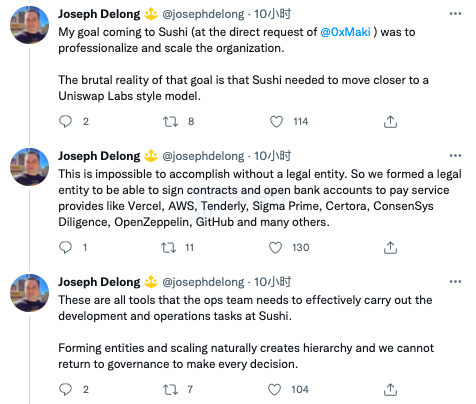 Joseph Delong admits that of course many former Sushi team members may not like him as the CTO. But most of them were asked to leave because of poor performance or inability to work with the team.

Joseph Delong revealed that his work has not been well compensated. This year's work received a Sushi payment of US$300,000 and ended on January 7, 2022. He actually cut his salary and left Dapper Labs to work for Sushi because of his enthusiasm for it. SushiSwap is now releasing Trident (this year's fifth product), and if he can't get the autonomy to continue operations, form leadership capabilities, and raise salaries across the board, he will choose to leave.